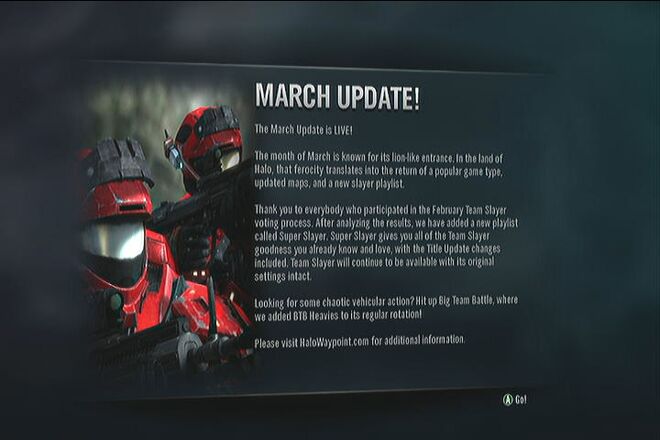 March 11, 2012
The March Update is LIVE!
The month of March is known for its lion-like entrance. In the land of Halo, that ferocity translates into the return of a popular game type, updated maps, and a new slayer playlist.
Thank you to everybody who participated in the February Team Slayer voting process. After analyzing the results, we have added a new playlist called Super Slayer. Super Slayer gives you all of the Team Slayer goodness you already know and love, with the Title Update changes included. Team Slayer will continue to be available with its original settings intact.
Looking for some chaotic vehicular action? Hit up Big Team Battle, where we added BTB Heavies to its regular rotation!
Please visit HaloWaypoint.com for additional information.
-343 Industries
Summary
This month a new Slayer playlist has been added and it is called, Super Slayer. This new playlist will include all of the Title Update changes and the original Team Slayer playlist will remain untouched. The gametype, BTB Heavies, has been added to to the Big Team Battle playlist.